Tucson Car Accident Attorney
Car accidents are among the leading causes of injury and death in Arizona and throughout the United States. A car accident can leave you with serious injuries and create significant financial strain in the form of medical expenses and lost wages. Your injuries may lead to ongoing medical bills and have a negative impact on your ability to work to support yourself and your family, both now and in the future.
If you were injured in a car accident as a result of the actions of another person or entity, you need an experienced advocate on your side. At The Entrekin Law Firm, our Tucson car accident lawyers can help you recover the full compensation that you deserve. Call today for a free and confidential case evaluation.
Tucson Car Accident Resources
To immediately access the resources at any point on this page, click the corresponding links below.
What Does a Car Accident Attorney Do?
Common Causes of Car Accidents
What Injuries Can a Car Crash Cause?
Proving Fault After a Car Accident
What Damages May Be Available in Your Case?
Insurers Typically Cover Damages, Not the Other Driver
Arizona's Car Accident Statute of Limitations
You Only Pay if We Win
Steps to Follow After a Car Crash
Speak to an Attorney Today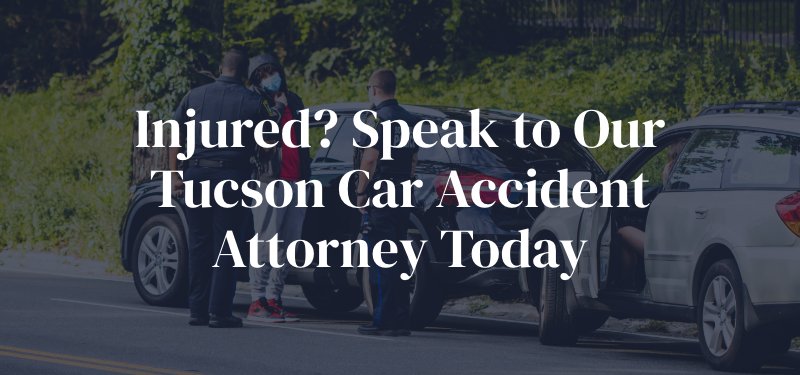 What Does a Tucson Car Accident Attorney Do?
If you have been involved in a car accident, a lawyer's help can be invaluable. Some of the most important steps they will take include the following:
Evaluate Your Car Accident Claim
A car accident attorney will first evaluate your situation to determine if you have a claim for compensation. This evaluation typically involves looking into who is legally responsible for causing the accident by reviewing the circumstances of the accident and looking at available evidence.
Document Damages & Calculate How Much A Claim Is Worth
A lawyer can assess the value of your claim by looking at the losses you have incurred, such as medical bills, lost wages, property damage costs, and pain and suffering. Your attorney may enlist the help of medical experts or financial advisors to assist in evaluating your case.
File Insurance Claims & Negotiate With Insurance Companies
Your attorney will then file an insurance claim on your behalf and negotiate with the insurance company for a fair settlement amount. They will work diligently to ensure that all damages are included in the settlement offer so that you receive maximum compensation for your losses. In some cases, however, it may be necessary to file a lawsuit against those responsible for causing the accident to ensure you get what you're entitled to.
Common Causes of Car Accidents You May Recover Damages For
When another driver or condition causes the car accident that led to your injuries, you may be entitled to compensation for all associated costs. These include all medical bills, as well as any impact on your earnings during recovery and in the future.
Common causes of accidents that we have helped clients recover compensation for include:
Distracted driving
Drunk driving
Drowsy or fatigued driving
Vehicle or equipment malfunctions
Carelessness and inattention
Other drivers on the road are required to follow the rules of the road, including all associated laws. When a driver is breaking the law and they cause an accident, they will be liable for any damages that are caused. For example, under Arizona law talking or texting on a cellphone is illegal, which is one of the most common forms of distracted driving. Under Arizona DUI laws, any driver who is impaired due to the influence of alcohol or drugs has broken the law, and will be liable for any accidents that their intoxicated condition causes.
Even if a specific law wasn't broken, inattentive or careless drivers may be found responsible for the accident. However, proving that this was the case can be difficult and requires an understanding of what and where to look for evidence. Our car, truck, and motorcycle accident attorneys in Tucson know what to look for after an accident to help prove your case.
What Injuries Can a Car Crash Cause?
It's important to be aware of the potential injuries that could result from a collision so that you know what to look out for. 
Physical Injuries
Car crashes are capable of causing serious physical injuries, including:
Traumatic brain injury (TBI)

Spinal cord injuries 

Back injuries

Internal injuries

Fractures and breaks

Disfiguring facial injuries and scars

Limb loss and amputation

Neck injuries and whiplash

Knee injuries

Shoulder injuries

Lacerations

Bruises and "road rash" (abrasions caused by being dragged across the pavement)

Crush injuries (any part of the body caught between two objects being pushed together under pressure can sustain crush injury). 
All these types of physical injury can have long-term consequences for those affected by them.
Psychological Injuries
In addition to physical trauma caused by car crashes, there are also psychological effects that need to be taken into consideration. Post-traumatic stress disorder (PTSD) is not uncommon after experiencing a serious accident or trauma. 
Other mental health issues related to car accidents include depression, anxiety disorders including panic attacks and phobias, as well as sleep disturbance or insomnia. 
These issues can be just as debilitating as physical symptoms if left untreated or ignored. Therefore, it is essential to seek professional help if any psychological symptoms arise following a traffic accident.
Proving Fault After a Car Accident
When involved in a car accident, determining who is at fault can be complex. To receive compensation for losses, it must be shown that someone else was responsible for the accident.
Some of the evidence used to do this includes:
Accident and Police Reports
An accident report filed by law enforcement officers is one of the most important pieces of evidence for determining fault following a car crash. The report will list all parties involved, witnesses and damages, as well as provide contact information for those who were present. 
Additionally, it will contain details about how the incident occurred and describe conditions at the time of the crash such as weather or road conditions. The police report can be used as evidence if there is disagreement about how the collision happened or who was at fault.
Eyewitness Statements
In some cases, eyewitness statements from people who witnessed the crash can help establish fault in an auto accident case. Eyewitness testimony can provide details that help prove one side was more responsible than another.
Physical Evidence from Accident Scene  
Another way to prove fault in auto accidents is through physical evidence left behind at the scene such as skid marks on pavement or damage caused by impact with guardrails or other objects near the roadways. 
Photos & Videos from Accident Scene 
Photos and videos taken at the scene of an automobile crash can also be used to prove fault in an auto accident claim since they capture images of vehicle damage. This could point towards which driver was negligent or reckless when driving leading up to the incident taking place. 
Additionally, if there are traffic cameras located nearby, footage can be used to show what happened to cause the accident and who is responsible. 
What if You Were Partially Liable for Your Accident?
In some cases, both drivers may share some of the responsibility for the crash. If this is the case, then Arizona follows a pure comparative negligence rule. This means that if you were partially at fault for an accident, you could still recover damages from the other driver: 
"The defense of contributory negligence or of assumption of risk is in all cases a question of fact and shall at all times be left to the jury. If the jury applies either defense, the claimant's action is not barred, but the full damages shall be reduced in proportion to the relative degree of the claimant's fault which is a proximate cause of the injury or death, if any."
Under this doctrine, the plaintiff's damages will be reduced by the percentage they are responsible for causing the crash. For example, if they were 20% responsible any damages awarded would then be reduced by 20%. In Arizona, drivers can recover damages even if they were 99% responsible for causing the crash. 
What Damages May Be Available in Your Case?
Recovering the full compensation you are entitled to for your car accidents includes:
Vehicle and other property repair and/or replacement
Short-term medical bills such as emergency services
Long-term medical costs including ongoing treatment, medications, and rehabilitation
Short-term lost wages and work benefits such as sick time and vacation leave
Long-term lost earnings potential due to your injuries
The purpose of pursuing compensation for your car accident injuries is to put you and your family in as close a financial position as possible as though the accident had not happened. This includes covering all associated medical expenses, property repairs, and impacts on your ability to earn and support your family. These damages can only be recovered when they are proven with evidence that would be admissible in court.
Your Tucson car accident attorney from Accident Lawyer Arizona collects all the evidence you need to prove your case, and will use it to negotiate the best possible settlement on your behalf. A settlement is only possible once it is proven that someone or something else was the cause of the accident.
Insurers Typically Pay Damages, Not the Other Driver
Arizona is an at-fault insurance state. This means that if another driver is found to be at fault for the accident, they are legally responsible to compensate you for your losses. However, if both drivers share some blame for the accident, Arizona follows a "pure comparative fault" rule. In this system, the total award is reduced by the driver's share of fault. While this rule is typically reserved for cases that go to trial, insurance companies will most definitely consider it in settlement negotiations.
This is where your local Tucson car accident attorney is of particular value, as they will put together your car accident injury claim, collect evidence, and negotiate the best possible settlement for your injuries.
In the event that a settlement cannot be reached, your attorney will file a lawsuit on your behalf to require the insurance company to pay you what you are owed. At The Entrekin Law Firm, we will not hesitate to take insurers to trial if they refuse to deal fairly with our clients.
What is Arizona's Car Accident Statute of Limitations?
In Arizona, you only have two years from the date of the accident to bring a lawsuit against those who are responsible for causing it: "Except as provided in section 12-551 there shall be commenced and prosecuted within two years after the cause of action accrues, and not afterward, the following actions: 1. For injuries done to the person of another including causes of action for medical malpractice as defined in section 12-561."
After this period expires, an individual cannot bring an action regardless of how serious their injuries may be. 
You Pay Nothing Up-Front, and We Only Get Paid if We Win
Often, our potential clients will often worry that they cannot afford our services, but this could not be further from the truth. You will pay nothing for your risk-free initial case assessment, and if we take your case, you'll pay nothing out-of-pocket, ever. This is because we take personal injury cases like car accidents on contingency, which means that we only get paid if we win on your case.
Our payment comes out of a portion of the earnings that we generate that we'll agree upon before getting started. We believe that this contingency fee arrangement allows clients access to high-quality representation that they may not otherwise be able to afford.
Steps to Follow After a Crash
Knowing what steps to take after an accident is important in ensuring that your rights are protected. Here's what to do if you've just been in a crash:
Call 911 
The first step you should take after an accident is to call 911. This ensures that emergency responders arrive at the scene quickly, and it also creates an official record of the accident which can be used for insurance purposes or in legal proceedings. The responding police officer will assess the scene of the accident, document all details, and create an official accident report. 
Make Sure Everyone Gets Medical Attention 
Anyone who has been injured at the scene should seek medical care right away. It is important to be checked out by a doctor even if there are no visible injuries so that any hidden or underlying issues can be monitored and addressed if necessary.
Document Everything You Can 
You should also document everything with photos or videos from your phone if possible. If you're able to do this safely, make sure you capture images of all vehicles involved in the crash along with any property damage or debris from the scene of the accident. You should also document any physical injuries you sustain during the crash for potential use in court proceedings or insurance claims.  
Contact a Car Accident Lawyer 
Even if your car accident appears to be minor, it's wise to consult a Tucson personal injury lawyer soon after the incident occurs. A lawyer can help you navigate the process of filing insurance claims and taking legal action, if necessary.
Connect with a Tucson Car Accident Lawyer to Help on Your Claim
Achieving the best possible outcome for your car accident settlement when you are trying to recover from your injuries can be extremely difficult. However, having an experienced Tucson car accident lawyer on your side from the start can take the stress of putting together your claim out of your day-to-day life.
If you or a loved one have been seriously injured in a preventable car accident in Tucson, The Entrekin Law Firm can help. Call today to schedule a consultation and discuss your options in your car or truck accident case in Tucson. The consultation is absolutely free and we never charge any fees unless we win.