Phoenix Bicycle Accident Attorney
While bicycles are meant to be a safe, eco-friendly, and fitness-oriented option to get around, the roads are not always safe for cyclists. Often, other drivers on the road fail to notice bicyclists, or worse, engage in driving behaviors that put them in danger. If you have been injured in a bicycle accident that was caused by someone or something else, you may be entitled to compensation for all damages associated with your injuries.
These damages include the short- and long-term medical bills linked to your bicycle accident injuries, ranging from the emergency room to ongoing treatment and rehabilitation. Additionally, you are entitled to any lost wages and work benefits in the short term, as well as any long-term impact on your earnings ability.
Working with a Phoenix bicycle accident attorney from The Entrekin Law Firm can ensure that your damages are accurately measured and that you recover just compensation for the losses you have incurred. Call today for a free and confidential case evaluation to discuss your legal options.
Phoenix Bicycle Accident Resources
To immediately access the resources at any point on this page, please click the corresponding link below.
Bicycle Accident Statistics in Arizona
Common Causes of Bicycle Accidents
Proving Negligence After a Phoenix Bicycle Accident
Your Attorney Collects Evidence to Measure and Collect Damages
Establishing Fault After a Bicycle Accident
What Damages Can You Claim in a Phoenix Bicycle Accident Lawsuit?
Arizona's Personal Injury Statute of Limitations
What to Do After a Bicycle Accident
Speak to a Lawyer Today
Bicycle Accident Statistics in Arizona
Bicycle crashes are unfortunately quite common and can cause severe, long-lasting injuries. Riding bikes is often done for fun, but it's also used as a means of necessary transportation for many people.
In the year 2020 in Arizona, there were approximately 830 bicycle accidents, including 33 fatalities. More than 90 percent of bicycle accidents occurred in urban areas, and 75 percent of accidents occurred during daylight hours.
It's important to understand just how dangerous biking can be and to take as many precautions as possible.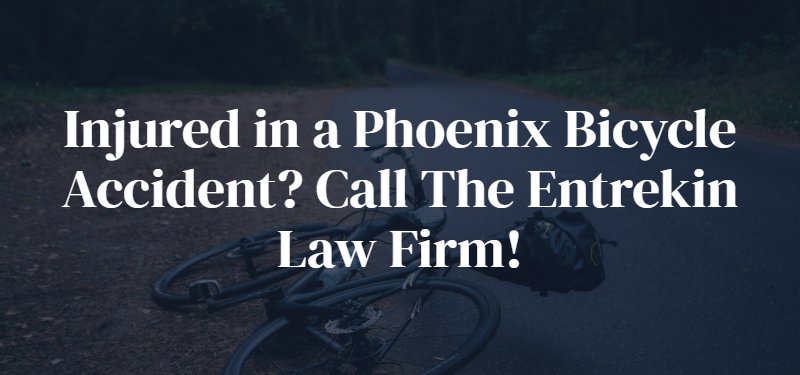 Common Causes of Phoenix Bicycle Accidents
When someone or something else causes your bicycle accident, you are entitled to compensation. Common causes of bicycle accidents you can recover damages for include:
Inattention or carelessness
Distracted driving
Drowsy driving
Aggressive driving and speeding
When a driver is on the road, it is their responsibility to ensure that they drive safely and in line with the rules and laws of the road. Distracted driving is one of the most common dangerous activities that drivers engage in on the roads that lead to bicycle and car accidents. Texting while driving is the most common form of distracted driving, and is illegal in Arizona.
Anytime a driver is visually, mentally, or manually impaired while driving they are breaking the law and will be liable for any accidents they cause. For example, when a driver is texting while driving, their vision is impaired as their eyes are on the phone not the road, their mind is impaired as they are thinking about the text not the road, and they are manually impaired as their hands are on their phone and not the wheel.
Drowsy driving is also illegal, and a violation of the duty drivers have to others on the road. Drivers must be adequately rested to safely drive, and driving while drowsy or fatigued can lead to liability in any accidents that result.
Aggressive driving and speeding are also illegal behaviors on the road that will lead to liability. Failing to leave enough room for other drivers, or bicyclists, on the road is a form of aggressive driving, and aggressive drivers are liable for the accidents that they cause. Your Phoenix bicycle accident lawyer will review the evidence and circumstances of your accident to determine liability and help you to determine the cause of the accident.
Whenever a driver breaks the rules of the road and causes an accident, they will be liable for the resulting damages, and the unique facts and circumstances of your accident and related evidence determines who is liable. How do you know what the driver was doing in the moments before they hit you on your bicycle? You were riding safely and paying attention to the road, and it is not possible for you to have been looking into their vehicle before they hit you. The answer is: evidence. Our Phoenix car accident attorney understands what to look for when a bicyclist is struck by a careless or negligent driver.
You Must Prove the Driver's Negligence to Collect Compensation
To collect damages, you will need to prove that the driver that hit you caused the accident that led to your injuries. This requires that the unique facts and circumstances of your accident are applied to the legal concept known as "negligence."
Negligence means basically that:
another party owed you some responsibility or duty,
that duty was broken causing an accident,
the accident caused you injury,
the injury resulted in damages.
Collecting what you are entitled to requires that you prove the liability of the party at-fault in your bicycle accident, and also assemble evidence in support of your damages. This all needs to be incorporated into an insurance claim, or a lawsuit when necessary. While this might seem intimidating, your local Phoenix bicycle accident lawyer from The Entrekin Law Firm will handle your claim every step of the way. You pay nothing out-of-pocket, ever, and we only get paid if we win your case.
Your Attorney Collects Evidence to Fully Measure and Collect Your Damages
When it comes time to collect damages for your bicycle accident, it is important to understand that you can only collect damages that you can prove with evidence. The evidence must be such that a court of law would accept it in a case. If a settlement is not possible, we will take the insurance company to court on your behalf to ensure you collect the compensation you are entitled to.
As mentioned, you pay nothing out-of-pocket, ever, as we take personal injury cases on contingency. This means that we only get paid if we win your case, out of a portion of the earnings that we'll agree upon before getting started. Your initial case consultation is risk-free and cost-free. We'll collect some basic information, and then if we think you might have a case, we'll request additional info and conduct some research.
If we think we can help, we'll offer you an engagement agreement and fully explain what our relationship will look like. You aren't obligated to anything until we sign an agreement, and our personal injury attorney in Phoenix only gets paid if we win.
Establishing Fault in an Arizona Bicycle Accident Case
Determining who is at fault for a bicycle accident is a crucial part of your claim. In order to obtain compensation through a personal injury lawsuit, you must be able to show that someone else's negligence caused the accident. To prove fault and negligence, you must present evidence that the responsible party owed you a duty of care and breached the duty of care.
What is Duty of Care?
A duty of care is a requirement or legal obligation requiring another party to follow certain standards of care to maintain the safety of others around them. For example, all drivers in Arizona have a duty of care to exercise reasonable care to not harm others while operating their vehicle. The simple fact of operating a vehicle in Arizona creates this duty of care. This means that all drivers must obey traffic laws to ensure the safety of others around them, including bicyclists. 
Breach of Duty
Once you're able to establish that the party you believe was responsible for your accident owed you a duty of care, you will need to prove fault by showing that they breached this duty of care. Common breaches include texting while driving, speeding, failing to stop at traffic lights or stop signs, driving under the influence, or breaking any other traffic laws. 
If you can present evidence of the duty of care and that there was a breach, this is the start of proving that the other party was at fault for the accident. 
What Damages Can You Claim in a Phoenix Bicycle Accident Lawsuit?
If you were the victim of a bicycle accident, you may be worried about the financial aspect of it, as medical bills can add up significantly. Financial concerns are often compounded when you are unable to work because of your injuries. You should never have to be solely responsible for these financial losses when someone else caused your injury. When you file a personal injury claim in Arizona, you may be entitled to the following types of damages:
Economic
Economic damages are the easily quantifiable financial losses that are incurred as a direct result of the accident. The most common examples of economic damages include medical expenses, lost wages, and lost future wages. Medical expenses most typically include ambulatory services, emergency room visits, medications, diagnostic tests, surgical procedures, rehabilitative services, and follow-up care. 
These types of damages are awarded as a way to make the victim whole again, putting them in financial situation similar to where they were before the accident occurred. 
Non-Economic
Non-economic damages refer to intangible losses that are less easily quantifiable into monetary terms. The most common example of non-economic damages is pain and suffering. Pain and suffering damages are awarded to compensate a victim for physical pain and suffering as well as emotional distress.
Other common examples of non-economic damages include loss of consortium and loss of enjoyment of life.
Punitive Damages
In rare circumstances, punitive damages will be awarded at the conclusion of a bicycle accident case. Punitive damages are awarded to punish the defendant and deter them and others from engaging in similar problematic behavior in the future. In Arizona, punitive damages are only awarded if the court determines that the defendant was acting with an "evil mind." This means the defendant had ill will and intentionally caused harm to the victim, or the defendant knew that their behavior was so unsafe that it was likely to cause harm to someone but engaged in the behavior anyway. 
How Long Do You Have to File a Bicycle Accident Claim in Arizona? 
In all personal injury claims, there is a deadline by which you must file, or you will be unable to pursue your claim. This is called the statute of limitations. In Arizona bicycle accidents, the statute of limitations for most bicycle accident cases is 2 years from the date of the accident. 
In some circumstances, the deadline might be shortened or extended. Some of the most common exceptions to this deadline include the delayed discovery rule and claims against public entities.
The Discovery Rule
If you were in a bicycle accident but aren't immediately aware of your injuries, the deadline may be extended if you are able to show that you could not have reasonably discovered your injury sooner. 
Public Entity
If you wish to file a claim against a public entity, you must do so within 180 days after the cause of action accrues. This doesn't always mean that the deadline is 180 days from the date of the accident. The discovery rule applies to this situation as well. The deadline doesn't start running until the victim knows or reasonably should know what caused or contributed to their injuries. If you fail to file your claim within 180 days, you will be barred from pursuing the matter. 
Always speak with an experienced lawyer right away to determine the deadline so you don't miss your chance to obtain the financial compensation you deserve. 
What to Do After a Bicycle Accident
There are certain steps that should be taken after a bicycle accident to ensure you give yourself the best chance of recovering the compensation you deserve. 
Find safety and call 911.

After the accident occurs, make sure you are out of harm's way. Once you are safe, call 911 right away. An officer should arrive on the scene and speak with all parties involved, including eyewitnesses. They will create an accident report detailing their findings, which can be helpful for your future claim. Always request a copy of this report.

Exchange information with other party.

After you call 911, you can try to speak with the other involved party to exchange relevant information, such as registration and insurance information and driver's license information. You should always try to obtain the name, address, and phone number of the other involved party. Also take note of the make and model of the car involved, as well as the license plate number.

Find witnesses.

If you believe there are eyewitnesses, try to obtain their names and contact information as well.

Take photographs.

Once you're safe and have taken the above steps, consider taking photos if you feel comfortable doing so. It will be helpful to take pictures of the accident scene, any damage to the other vehicle, and any visible injuries that you sustained. 

Seek medical treatment.

Always seek medical treatment after a bicycle accident, even if you don't believe that you are seriously injured. This can help rule out internal injuries and will help you with any future insurance or personal injury claims. 

Speak with a lawyer.

Finally, consult with a lawyer as soon as possible to discuss your options. Even if you don't believe you will file a personal injury claim, having a lawyer to assist you with an insurance claim is always advisable so the insurance company doesn't take advantage of you.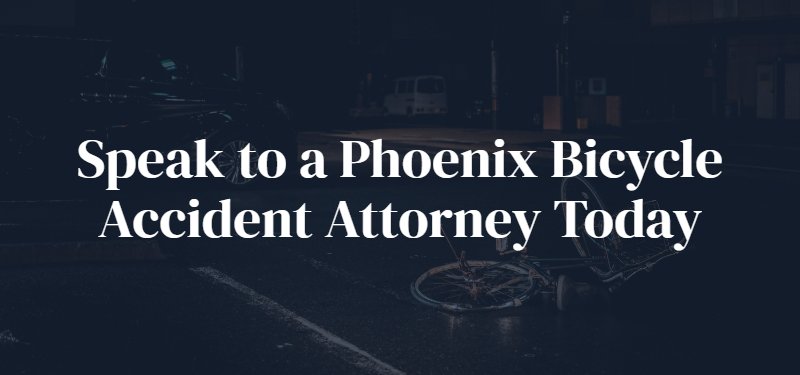 Discuss Your Case with a Phoenix Bicycle Accident Lawyer Today
The sooner you have a local Phoenix bicycle accident attorney from The Entrekin Law Firm on your case, the better the outcome. If we take your case, we get started immediately collecting information in support of your damages. We will handle your claim every step of the way from drafting through collecting the full compensation you are entitled to.
For your risk-free, cost-free consultation on your bicycle accident, schedule a consultation with The Entrekin Law Firm to discuss options.