Phoenix Catastrophic Injury Attorney
A catastrophic injury is defined in the United States Code as "consequences of an injury that permanently prevent an individual from performing any gainful work". Suffering a catastrophic injury will dramatically change the way in which you live your life and support yourself and your family. A catastrophic injury can keep you out of work, limiting your ability to earn income from the time of your injury through the remainder of your life. However, if the accident that led to your catastrophic injury was caused by someone or something else, you could be entitled to compensation to cover all damages linked to your injury.
Phoenix Catastrophic Injury Resources
To immediately access the resources at any point on this page, click the corresponding link below.
Why Choose The Entrekin Law Firm?
What Makes an Injury Catastrophic?
Common Causes of Catastrophic Injuries
Levels of Disability Benefits
How Can an Attorney Help?
When Can a Catastrophic Injury Claim Be Filed?
Arizona's Catastrophic Injury Statute of Limitations
Securing Damages in Your Case
What Specific Damages May Be Available?
Speak With a Lawyer Today
Why Choose The Entrekin Law Firm After a Catastrophic Injury?
If you or a loved one has been injured in an accident, it's important to have the right legal representation to help you pursue justice and compensation for your damages. Here's why that choice should be The Entrekin Law Firm:
Our law firm has the expertise, resources, and personnel to handle even the most demanding personal injury cases. 

We are fully aware of the struggles and issues faced by individuals when taking on large corporations, so we use our capabilities and resources to ensure that justice is served. Our team stands with the underdogs to help every client get what they rightfully deserve.

Our risk-free and cost-free consultation offers you valuable insights regarding your legal options. You can take advantage of this service with no financial downside so that you get the guidance you need to make informed decisions about your case.
If you need help, contact us today to schedule a free consultation.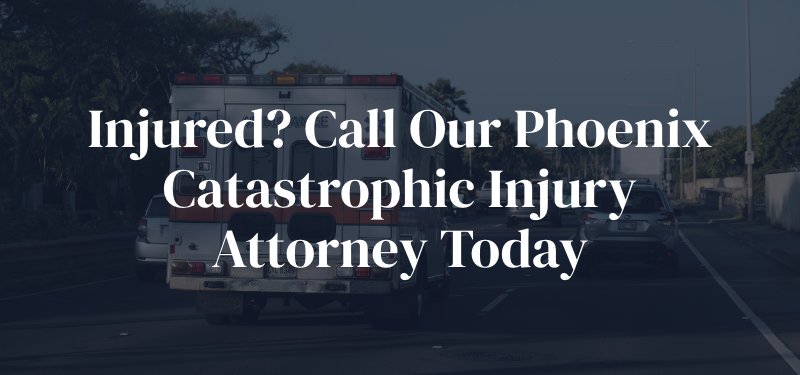 What Makes an Injury Catastrophic?
A catastrophic injury is classified as one that has resulted in extreme, long-term, and/or life-threatening consequences. It's more severe than a typical injury and can lead to a significant decrease in quality of life, or even death. Victims of catastrophic injuries often undergo painful and expensive rehabilitation, medical procedures, and treatments to cope with the impacts of the injury.
How Do Catastrophic Injury Cases Differ from Other Personal Injury Cases? 
Although all injury victims may be entitled to damages after an injury, the damages available in catastrophic injury cases tend to be much higher than those involving less serious injuries. This is because these types of cases often involve lifelong medical care and rehabilitation costs—costs that would never need to be considered with less severe forms of personal injury cases. 
Additionally, victims of catastrophic injuries may also be entitled to receive extensive compensation for lost wages due to their inability to work as well as non-economic damages like pain and suffering or emotional distress.
At The Entrekin Law Firm, our Phoenix catastrophic injury attorneys have significant experience representing clients who have been catastrophically injured. We understand how important the legal process is in these situations and do everything in our power to maximize the compensation in every case we take. Determining when you are entitled to damages and in what amount requires a careful assessment of the unique facts and circumstances of your accident, and collection of evidence to accurately and completely measure all damages associated with your injuries. Call today for a free and confidential case evaluation.
Common Causes of Catastrophic Injury
Beyond the initial injury, what makes an injury catastrophic is the fact that it leads to the injured person being unable to work and generate earnings to support themselves and their families. Catastrophic accidents are any that lead to this impact on your ability to work and can vary widely. These injuries can be brain or spinal cord injury, crushing or amputation injury, eye injuries, or even severe burns. Whether you need assistance with a Phoenix spinal cord injury or brain wound lawsuit, we're here to help.
Some of the most common sources of catastrophic injury are:
Defective products
Exposure to chemicals
Workplace injuries
If you have experienced a catastrophic injury due to these or any other accidents, you could be entitled to compensation for your damages. However, these claims can be incredibly complex and extremely expensive to litigate. Therefore, it is in the best interests of anyone who has experienced a catastrophic injury to speak with a qualified attorney.
Disability Benefits can be Partial or Complete Depending on the Symptoms
If your catastrophic injury has made it so that you cannot work, the extent of your injuries will determine what amount of compensation you are entitled to. Some injuries may limit your ability to perform certain work, which can limit your ability to earn as much as you had earned prior to your injury. When your injuries make it so that you are unable to work at all, you may be eligible for complete disability benefits.
The injuries that you have experienced will be assessed by medical and occupational experts through follow-up appointments. Your Phoenix catastrophic injury attorney will help you schedule these appointments, so you don't have to worry about the logistics. The experts will assess the symptoms of your injuries, and how long they will impact your life.
Accurately calculating the damages you are entitled to requires the collection of evidence, and consideration of the outcome of similar cases in your local courts. You do not automatically collect the full amount in damages you are entitled to after an accident. Instead, you must collect evidence to prove your damages, draft a claim, then successfully negotiate a settlement or win a lawsuit to collect the compensation associated with your claim.
How Can a Phoenix Catastrophic Injury Attorney Help With Your Case?
When faced with such a devastating situation, you need an experienced attorney on your side who understands the law and knows how to navigate complex legal issues in order to protect your rights and get you the compensation you deserve. Your attorney will investigate all aspects of the incident that caused your injury to determine who should be held liable for your damages. 
They will then build a strong case against the responsible party so they can be held accountable for their actions. Additionally, your lawyer will negotiate with all involved parties in order to reach an agreement on compensation for medical expenses, lost wages, and other losses related to the injury.
When Can a Catastrophic Injury Claim Be Filed?
In cases of catastrophic injury, it's important to understand your rights and how to file a claim. Here are some situations in which you may be able to seek compensation for the damages you've suffered:
Serious injuries and extensive medical bills: If you've sustained serious injuries that have resulted in extensive medical expenses, you may be eligible to seek compensation for damages. This can include spinal cord injuries, traumatic brain injuries, severe burns, amputations, and more. 
Your injury affects your ability to work: If your catastrophic injury has caused you to miss work or has impacted your ability to earn a living, you should consider speaking with a lawyer and filing a claim.
Your emotional and mental health have been suffering: Catastrophic injuries can have a significant impact on your emotional and mental well-being. If you've experienced depression, anxiety, PTSD, or other mental health issues as a result of your injury, you may be able to file a claim to seek compensation for these damages.
You May Bring a Claim on Behalf of a Catastrophically Injured Loved One
When a loved one has been catastrophically injured and is unable to bring a claim on their own behalf, that does not mean that you cannot collect damages for them. The family of a person who has been catastrophically injured, or a party legally appointed to represent their interests, can help them recover what they are entitled to for their injuries.
The cost of caring for a loved one who has suffered a catastrophic injury can extend beyond their medical treatments. Any impact on your loved one's ability to earn and support your family is also recoverable in your damages. Our personal injury lawyer in Phoenix fights for justice for your loved one and always seeks to recover the maximum amount of damages possible for their case.
What is Arizona's Catastrophic Injury Statute of Limitations?
In Arizona, the deadline for filing a claim is two years from the date of an accident or injury. This means that if you don't file within two years of the incident taking place, then you may not be able to take legal action against those responsible for your injuries. 
There are some exceptions to this rule. For example, if victims are minors or those "of unsound mind" when the accident occurs, they are given than the two years. In these cases, the two-year period begins when they reach 18 or regain mental capacity. 
To ensure that you don't miss the deadline, you should contact a personal injury lawyer as soon as possible so they can calculate this deadline and make sure you get the compensation you deserve. 
Damages for Catastrophic Injury are Meant to Cover Bills and Replace Lost Income
The purpose of pursuing compensation for a catastrophic injury is to "be made whole", which is a legal term that means to put you in as close a financial position as possible as though the accident had not occurred. This means that all medical bills in both the short- and long-term must be included in your settlement for you and your family to not be covering associated bills out of pocket.
What makes a catastrophic injury meet the definition is its impact on your ability to work, and any negative impact on your earnings will also be included in your complete compensation. This includes any change in your earnings ability from the time of the accident through your working life. Calculating these amounts can be difficult, and requires an understanding of how future value is calculated in present terms. All of this must be incorporated into your claim, and without an attorney measuring your damages then collecting them can be difficult.
What Specific Damages May Be Available in a Catastrophic Injury Case?
If you or a loved one has suffered a catastrophic injury, you may be wondering what financial compensation is available to you. The most common examples include the following:
Medical Expenses 
One of the most common types of damages sought in personal injury cases is medical expenses. This includes both past and future medical expenses related to the catastrophic injury, such as hospital stays and doctor's appointments. It also includes costs related to physical therapy, medical supplies and equipment, and medications. 
If your injuries are severe enough to require long-term care or around-the-clock assistance from professionals or family members, those costs may also be included in your claim for damages.  
Lost Wages 
If you have been unable to work due to your injuries—either temporarily or permanently—you may be able to seek compensation for lost wages from the party responsible for the accident that caused your injuries. You may also be able to include lost bonus opportunities and other income sources if applicable. 
Pain and Suffering Damages 
Pain and suffering compensation is designed to account for both physical pain as well as emotional distress caused by the injury itself or its long-term effects such as depression or anxiety. Pain and suffering damages can often make up a significant portion of an award in a personal injury case—especially when it comes to catastrophic injuries with life-altering consequences.  
Work with a Phoenix Catastrophic Injury Lawyer to Collect What You Deserve
When it comes time to collect upon your damages, you will generally have to file a claim with the insurance company of the party that caused the accident. Insurance companies do not work for you, they work for profit, and anything they pay out to you will reduce their profits. The insurance company has full-time teams of claim analysts and attorneys to carefully scrutinize all claims to deny or reduce whichever ones they can.
Connecting with a Phoenix catastrophic injury lawyer from The Entrekin Law Firm as soon as possible after your accident will support the best possible outcome in your case. We will handle the process every step of the way, collecting evidence, drafting and filing your claim, and following it through to collecting what you deserve.
Reach out to schedule your free initial consultation to discuss how we can help on your case.