Phoenix Motorcycle Accident Attorney
Motorcycles are an exciting and engaging transportation option that can bring their riders a great deal of joy, but not without a comparable level of risk. The National Highway Transportation Safety Administration notes that motorcycle riders are overrepresented in fatal traffic crashes, with 5,579 motorcyclists fatalities in 2020 alone. If you have been injured in a motorcycle accident caused by someone or something else, you could be entitled to compensation to cover all costs and damages linked to your injuries.
At The Entrekin Law Firm, our Phoenix motorcycle accident lawyers can help. Recovering what you are entitled to for your motorcycle accident can be a complex and highly involved process. It begins with collecting evidence to determine fault and the amount of damages, then proceeds through drafting, negotiation, communication, and potentially a lawsuit in court.
Working with a local lawyer can provide you with the support you need every step of the way to make the most of your case or claim. Call The Entrekin Law Firm today for a free and confidential case evaluation.
Phoenix Motorcycle Accident Resources
To instantly access the resources at any point on this page, click the appropriate link below.
Motorcycle Accident Statistics in Arizona
Why Are Motorcycle Accidents so Deadly?
Common Injuries Resulting from Phoenix Motorcycle Accidents
Fault in a Phoenix Motorcycle Accident
Damages In Motorcycle Accident Cases
Is There an Applicable Statute of Limitations?
Collecting Damages Requires Proving Your Case With Evidence
Steps Your Lawyer May Take
Cost of a Motorcycle Accident Attorney
Common Causes of Motorcycle Accidents
Can I File a Motorcycle Accident Claim Without an Attorney?
Do I Need a Motorcycle Attorney After a Minor Accident?
What to Do After a Motorcycle Wreck
Speak to an Attorney Today
Motorcycle Accident Statistics in Arizona
It's not a secret that motorcycles can be incredibly dangerous. The following statistics provide an overview of motorcycle accidents that occurred in Arizona in the year of 2020:
There were 275,632 registered motorcycles.

The vast majority of motorcycle crashes in Arizona in 2020 occurred during daylight hours in dry conditions. 

Of all motor vehicle accidents, motorcycles accounted for 1.25%. To put this in context, this comes out to 2,373 motorcycle accidents in the state of Arizona in the year of 2020. 

Of those accidents, approximately 160 of them were fatal accidents, and almost 2,000 included injuries. It's estimated that 355 of these motorcycle accidents entailed property damage only. 

The significant majority of motorcycle accidents – 77% – occurred in urban areas. 

Out of all urban crashes, 70% were fatal.

Rural area accidents made up approximately 23% of motorcycle accidents, and of all rural area accidents, 29% were fatal

106 alcohol-related motorcycle crashes occurred in Arizona in 2020, which accounts for 2.4% of all alcohol-related motor vehicle accidents. 

Of those alcohol-related accidents, 20 were fatal. 

More than 20% of individuals involved in motorcycle accidents were between the ages of 25 and 34. 

16% of accidents involved individuals between the ages of 35 and 44.

16% of accidents involved individuals between the ages of 45 and 54.

In almost 50% of motorcycle accidents, there was no evidence that the driver was breaking any traffic laws.

In 22% of accidents in Arizona in 2020, the driver was speeding.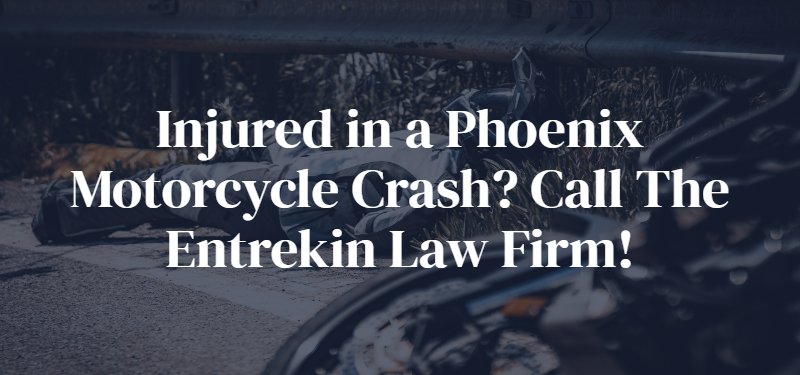 Why Are Motorcycle Accidents So Deadly?
Many individuals love riding motorcycles and do so for fun or as a means of transportation. There's certainly an appeal to it, but it's important to understand just how deadly they are so you can see the importance of taking all necessary safety precautions. Some of the primary reasons that motorcycle accidents end up being so deadly include the following:
Lack of protection.

Car accidents can be incredibly dangerous and cause many fatalities, but there is much more protection in a car than there is with a motorcycle. With a car, there is the frame of the car, which alone provides protection. Additionally, a motorcycle is not equipped with seatbelts or airbags. Due to the lack of seatbelts, motorcycle riders are almost always ejected from the motorcycle, which can cause serious injuries and possibly death. 

Quality of protective gear.

Motorcycle riders can wear helmets, boots, and thick clothing to try to protect themselves, but this can only do so much. These items can provide significant protection, but this is also contingent upon the gear being of high quality and appropriately fitted. If a motorcyclist is wearing a helmet that doesn't fit properly or isn't of good quality, it may not do much to prevent serious head and neck injuries. 
Common Injuries Resulting from Phoenix Motorcycle Accidents
The purpose of recovering compensation for your injuries is to put you and your family in as close a financial position as possible as though the accident had not happened. This includes recovering costs for all the medical bills linked to your injuries, as well as any impact on your ability to work.
Common injuries that lead to extensive damages we have helped clients recover compensation for include:
Broken and/or fractured bones
Partial or complete paralysis
Burn injuries
Loss of limb/amputation
Road rash
One of the most common, and costly, injuries associated with motorcycle accidents is a traumatic brain injury, or TBI. This happens when you experience a bump, blow, or penetrating wound to your head, which in turn damages the soft tissue of your brain and can lead to permanent chemical changes within. To collect the full damages you are entitled to, your injury must be fully assessed in terms of its severity, in the short and long term.
For example, you may have fallen from your motorcycle in the accident, and struck your head on the curb. Immediately after the accident you received stitches for your wounds, and have an emergency room bill from that. If that is all the evidence you have when seeking to collect on your claim, that is all you can collect. The bump to your head could have caused an internal brain injury, one that could impact your ability to work and to enjoy the same life you enjoyed before the accident. Measuring these damages requires additional medical opinions and follow-ups from experts, and your Phoenix motorcycle accident attorney will help you schedule these appointments to make the most of your damages.
Fault in a Phoenix Motorcycle Accident
Determining fault in motorcycle accidents is crucial for potential personal injury lawsuits. To be successful in a personal injury lawsuit resulting from a motorcycle accident, you will need to prove that the other party involved was negligent and that their negligence caused the accident. Many victims are concerned that if they are at all responsible for the accident, they won't be able to recover any monetary compensation. Fortunately, this is not the case in Arizona. 
Arizona personal injury cases are governed by pure comparative negligence. Under this law, the victim can recover financial compensation no matter how much responsibility they bear for the accident – even if they are 99 percent at fault. Based on the victim's percentage of fault, the monetary award will be reduced accordingly. 
For example, if the court determines that the victim was 40 percent responsible for the accident, their award will be reduced by 40 percent. If the award is $100,000, the victim will take home 60 percent, or $60,000. 
Damages In Motorcycle Accident Cases
When you experience an injury from an accident, your compensation is meant to cover all costs linked to your injury in both the short- and long-term. When it comes to medical expenses, in the short-term you will have emergency room bills, and in the long-term the potential of ongoing medication, treatments, surgeries, and rehabilitation. Especially in cases involving serious injury, these costs can quickly add up, and when they are not included in your settlement it will be you and your family covering them out of your household budget in the future.
The occupational costs from your motorcycle accident will include any lost wages and work benefits in the short term, like accrued sick time or vacation leave. In the long term, when your injuries have impacted your ability to work and support your family, you are entitled to any negative difference in your earnings ability. For example, if your injury happened when you were 30 years old, and reduced your ability to earn by $50,000 each year, you would have around 35 years of working life remaining, and a loss of $50,000 each year during that time. Your complete damages would cover all of these lost earnings, from the time of your motorcycle accident through the remainder of your working life.
Statute of Limitations in Arizona Motorcycle Accident Cases
In all personal injury claims, there is a deadline by which you must file your claim. If you fail to file the claim within this timeframe, you will be barred from pursuing the case and you won't be able to recover any monetary compensation, even if your case would have been strong. This is known as the statute of limitations. The deadline varies from state to state, so it's important to do your research. In Arizona, the statute of limitations for motorcycle accident cases is 2 years from the date of the incident. 
In some circumstances, there are exceptions to this deadline which can shorten or extend it. It's important to speak with an experienced lawyer right away so you don't miss this important deadline. 
Collecting Damages Requires Proving Your Case by Collecting Evidence
In order to collect the compensation that you deserve for your motorcycle accident, the evidence must be put to work in two ways:
Evidence proves that another party caused the accident and will have to pay you
Evidence proves the amount and extent of damages you suffered in the accident
You can only collect on damages that you can prove, and you can only collect damages from accidents that you can prove the cause of as being someone or something else. This evidence includes accident and police reports from the scene, as well as additional evidence that will be collected from medical, occupational, and other experts after your accident to measure your damages.
Working with a local Phoenix personal injury lawyer from The Entrekin Law Firm will support the collection of evidence and construction of the best possible case in your favor. To determine whether you are entitled to collect, we will gather evidence about the accident and carefully review the cause to determine if you are entitled to compensation.
Steps Your Motorcycle Accident Attorney May Take
Being involved in a motorcycle accident is always a stressful experience. It becomes even more stressful if you experience serious injuries and property damage. Fortunately, an attorney can help. When you find the right lawyer, they will take care of the complicated legal aspects of the claim so you can focus on healing emotionally and physically. Understanding what steps your lawyer might take can help ease some of the anxiety that comes from an accident and filing a claim. 
If you decide to file a personal injury claim, your motorcycle accident attorney will take the following steps:
Officially file a complaint with the court naming the defendant and outlining what you are requesting as a remedy.

Discuss the possibility of arbitration. If arbitration is an option, you can decide to meet with the defendant and an unbiased third party before taking the case to trial. The goal here is to settle the case before it goes to trial.

Serve the defendant so they're aware of the complaint.

Request information from the defendant via the discovery process and provide any information that the defense requests from you.

Investigate your claim by speaking to witnesses, obtaining medical records, and contacting expert medical witnesses or accident reconstruction experts.

Litigate your case in front of a judge or jury if it gets to this point. This includes questioning witnesses presenting evidence to the court. 

Provide help during the appeals process if necessary. 
How Much Does it Cost to Hire a Phoenix Motorcycle Accident Lawyer?
Many people are understandably concerned about the cost of hiring a lawyer. Fortunately, almost all motorcycle accident attorneys work on a contingency fee basis. This means you don't have to pay anything to your lawyer up front; their payment is contingent upon the success of your case.
This is how payment works at The Entrekin Law Firm. Additionally, we offer free consultations, so you never have to worry about the initial contact to discuss your potential claim.  If we win or settle your case, we collect a percentage of the award. Because our payment is directly tied to how much you are awarded – the more you get, the more we are paid – you can be certain that our interests are aligned. If you don't get paid, we don't get paid. This allows us to provide quality legal representation to all people, regardless of their financial situation. 
Common Causes of Motorcycle Accidents
Motorcycle accidents can occur in a variety of ways. However, in order to collect compensation for the injuries associated with your motorcycle accident, you'll first need to prove that another party was at fault for the accident. In most cases this is another motorist whose careless, inattentive, or intentional behavior caused the accident. However, in rarer cases, a motorcycle or parts manufacturer or even a governmental entity may be at fault.
Common causes of motorcycle accidents that could entitle you to compensation include:
Carelessness or inattention
Distracted driving
Drowsy or fatigued driving
Speeding
Aggressive driving
Drunk or intoxicated driving
If the behavior of another driver caused the accident, then you will be able to pursue compensation from their insurance company through the claims process. Our car accident lawyers in Phoenix understand what to look for when a negligent or careless motorist collides with a motorcyclist.
Can I File a Motorcycle Accident Claim Without an Attorney?
You're never legally required to use an attorney to file a motorcycle accident claim. That being said, it's always advisable to seek help from an expert. There are deadlines that must be met and court rules and procedures that must be followed that most lay people just aren't familiar with. We understand the desire to want to save money, but you're almost always more likely to receive financial compensation with the help of a professional. A portion of something is always better than all of nothing.
Do I Need a Motorcycle Attorney After a Minor Accident?
As stated above, you're never required to hire an attorney for a motorcycle accident. However, it's always advisable, even when the accident seems minor. Even if you're not going to pursue a personal injury lawsuit, dealing with insurance companies can be incredibly frustrating and difficult. When you speak with insurance companies and adjusters, you have to remember that they never have your best interest in mind. They are always concerned about their bottom line and saving as much money as possible, which means paying you the least amount of money as they can.
When you hire a lawyer, they can help you speak with the insurance company to ensure you get what you're entitled to. If they offer you a payout that is clearly less than what you're entitled to, your lawyer can negotiate with them and then always file a lawsuit if an agreement can't be reached. 
Regardless of the situation, you should always speak with a professional after being in a motorcycle accident. 
What to Do After a Motorcycle Crash
While you should speak with a lawyer as soon as possible after a motorcycle crash, there are other steps you should take in the meantime, including the following:
Make sure you're safe.

The first thing you should do is make sure you're safe and aren't in danger of getting hit by moving traffic. If you're in too much pain to move, you should call 911 immediately or ask someone to call for you.

Contact law enforcement.

If you were able to get yourself safely out of harm's way on your own, you should still call 911 as soon as possible. The sooner police arrive, the better. They will take note of the scene and obtain statements from you, other parties involved, and any witnesses in the area to get an idea of what happened. This will be the information they include in the accident report. This evidence can be helpful for any future insurance claims or personal injury lawsuits.

Exchange information.

Once you call authorities, you should exchange pertinent information with the other party involved in the accident. This includes insurance and registration information and the other party's driver's license information. You should also take photos of the other driver's license plate number and make and model of car. 

Take photos.

You should also consider taking photos of any damage to your car and the other party's car. Additionally, take pictures of any visible injuries you experienced during the accident. The more evidence you have, the better.

Contact an attorney.

Finally, contact an experienced personal injury lawyer right away. The sooner you do this, the better.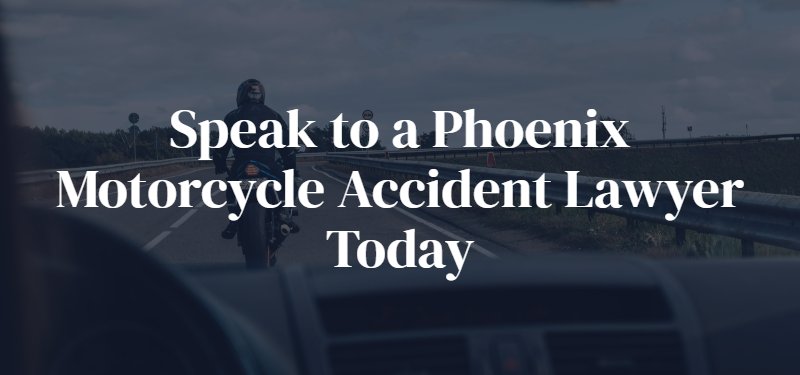 Get Help from a Phoenix Motorcycle Accident Lawyer on Your Case
Accurately measuring what you are owed and then collecting it requires that you collect evidence, draft a claim, and successfully negotiate it. If you have been injured in a preventable motorcycle accident, we can help. At The Entrekin Law Firm, our motorcycle, car, and truck accident lawyers in Phoenix will work tirelessly to ensure that you recover the full amount you are entitled to.
Reach out to us for your risk-free, cost-free assessment on your case as soon as you are able to so we can discuss how we can help.