Phoenix Construction Accident Attorney
The construction industry is among the most dangerous of all industries in the United States. According to the United States Department of Labor, 20% of worker fatalities occur within the construction industry. While workers' compensation may be available to injured or killed workers in their families, in many cases, it is not nearly enough.
If you or a loved one have been injured in a construction accident, you have options. In certain situations, you may be eligible to file a third party Phoenix personal injury claim to recover full compensation for your losses.
At The Entrekin Law Firm, we understand how important it is for construction workers and their families to get back on their feet. We also understand how important a claim is for an injured worker. As a result, we treat every construction accident case with the same level of dedication that they need to be successful. Our Phoenix construction accident attorneys invest in our cases, both with financial resources and our time and effort. We handle all cases on a contingency fee basis and never charge a fee unless we win. Call today for a free consultation.
Phoenix Construction Accident Resources
To immediately access the resources at any point on this page, click the corresponding link below.
Why Choose The Entrekin Law Firm?
What Factors Create Dangerous Construction Zones?
Common Types of Construction Accidents
Common Construction Accident Injuries
Why Hire a Phoenix Construction Accident Attorney?
Who Can Be Liable for a Construction Accident?
Potential Compensation After a Construction Accident
Speak With a Lawyer Today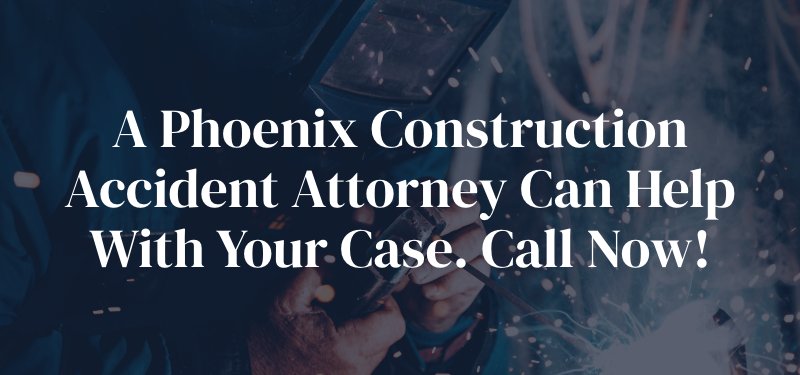 Why Choose The Entrekin Law Firm for a Construction Accident Case?
At The Entrekin law Firm, we are passionate about justice and providing our clients with the services they need to get outstanding results. Here's why you should work with us:
We have decades of experience in the field of personal injury law, and we have a track record of success. Our team has won multi-million-dollar settlements for our clients and has helped countless individuals receive compensation for their injuries or losses. We understand that each case is unique, which is why we take the time to develop a personalized strategy for each client.
Additionally, we don't view our clients as numbers or profits; rather, we view them as human beings who deserve respect and compassion. We understand that going through a legal battle can be stressful, so we make sure to take the time to explain your case in detail and answer any questions you may have about it. We will always be available for consultations if needed.
When it comes to deciding whether to represent someone, we are extremely selective. This means that if we do choose to represent your case, then we truly believe that we can help you get the outcome you want or even exceed your expectations. We put all our energy into every single case because achieving justice is something that matters deeply to us. 
What Factors Can Create a Dangerous Construction Zone?
Construction sites are inherently dangerous places to work. The following are some of the factors that make an already dangerous workplace even more dangerous:
Inadequate Worker Training 
One of the most common factors that creates a dangerous construction zone is inadequate worker training. When workers don't receive proper training or instruction on how to safely carry out their job responsibilities, it increases the chances for accidents and injuries. 
Lack of Safety Gear 
Another factor that can create a dangerous construction zone is when safety gear isn't provided or when workers fail to wear it properly. This includes hard hats, safety glasses, hearing protection, steel-toe boots, and non-slip gloves. 
No Safety Meetings 
Safety meetings should be conducted often at all construction sites. During these meetings, all necessary safety procedures should be discussed as well as any potential hazards that have been observed at the job site since the last meeting was held. 
Defective Tools or Equipment 
Finally, defective tools or equipment can lead to serious injuries or fatalities at a construction site if not properly inspected before use. All tools and equipment must be regularly serviced by qualified technicians and inspected for defects before being used by workers onsite. 
If a defect is found during inspection, it must be repaired immediately before the machine is put back into operation. Failure to do this puts everyone who works at the job site at risk of injury or death due to malfunctioning tools or equipment.   
What Are Some Common Types of Construction Accidents?
Construction is a dangerous job. Knowing the most common types of accidents can help you prevent them and keep yourself safe.
Falls 
Falls are one of the leading causes of death and injury among construction workers. Many falls occur when scaffolding collapses or when employees don't use the proper safety equipment such as harnesses or guardrails. 
Struck by Object 
Construction workers work with heavy machinery and tools, which means they are at risk for being struck by objects on the job site. This can happen when a tool or piece of machinery falls from a height or when an employee is hit by a flying object like a nail or bolt. 
Electrocution 
Electrocution occurs when an employee comes into contact with live wires or other electrical sources on the job site. This type of accident can be deadly if not treated quickly, which is why it's so important for employers to provide their employees with proper training on how to safely work around electricity 
Caught in/between  
This type of accident occurs when an employee gets caught between two moving parts such as heavy machinery or large pieces of equipment like cranes or hoists. This can often result in serious injuries such as fractures, lacerations, amputations, crushed organs, paralysis, and even death if not treated quickly enough. 
Common Construction Accident Injuries
Construction accidents can occur in a wide range of ways. Some of the most common accidents suffered by employees working on construction sites include:
Slip-and-falls
Falls from height
Falling objects
Motor vehicle accidents
Exposure to chemicals
Exposure to hot liquids and steam
Construction sites have many hazards, and can lead to the following injuries that could entitle you to compensation:
Burn injury
Partial or complete paralysis
Amputation or loss of limbs
Broken and/or fractured bones
An unsafe construction site can be the result of negligence, improper training or hiring, defective tools or products, and many other factors. The extent of your injuries from the construction accident and the options available to you will vary depending upon the unique facts and circumstances of the accident, and the evidence in support of your damages. You can only collect on damages that you can prove with evidence, which includes opinions from medical and occupational experts and others qualified to present evidence that a court would accept.
Why Hire a Phoenix Construction Accident Attorney?
If you've been injured in a construction accident, you know how frustrating and overwhelming the process of seeking restitution can be. With the right attorney on your side, though, you can rest easy knowing that your case is in good hands. Here are some of the reasons why hiring a Phoenix construction accident attorney is essential.
Experience – An experienced attorney knows the ins and outs of the law and can provide you with sound legal advice. A lawyer who has handled similar cases before will also have connections to industry experts and other professionals who can help strengthen your case. From Phoenix burn injury litigation to amputations, we can help.
Knowledge – Personal injury laws are ever-changing and complex. A knowledgeable attorney understands Arizona state laws as well as federal regulations pertaining to construction accidents. Your lawyer should be able to answer any questions you have about the claims process, explain complex legal terms in plain language, and make sure all legal documents are filed properly and on time. 
Negotiation Skills – Negotiating with insurance companies can be intimidating for someone without legal training or experience. Your attorney will act as an intermediary between you and insurance companies to make sure that all parties are held accountable for their actions. They will negotiate on your behalf to ensure that you receive fair compensation for your injuries and losses.
Who Can Be Held Liable After a Construction Accident? 
If you've been injured in a construction accident, it is important to understand who can be held liable for any damages sustained. The following are some of the most common parties that may be responsible for your losses after a construction accident:
Manufacturer of Equipment or Machinery: Manufacturers of defective equipment or machinery used on the job site may be liable if their defective product caused your injury. 
Employer's Insurance: Employers are required to provide a safe working environment for employees. If you are injured at work, you could be eligible for benefits through a workers' compensation claim. Workers' compensation benefits can cover medical costs related to your injury as well as lost wages due to missed workdays. 
A Third Party: A third party is someone other than your employer who is also involved in the work being performed at the job site. This could include subcontractors, fellow employees, architects, engineers etc. 
Potential Compensation After a Construction Accident
If you're injured in a construction accident, you may be entitled to the following types of compensation:
Medical Costs: Medical costs may include past medical bills and future expenses related to your injury such as hospital visits, ambulance rides, rehabilitation, medications, or out of pocket expenses. Lost wages can also be awarded if you have to take time off from work due to your injury. 
Pain and Suffering: Pain and suffering damages are meant to compensate for any physical or emotional distress caused by the accident. 
Punitive: Finally, punitive damages are awarded as punishment for defendants who acted particularly egregiously.
Connect with a Phoenix Construction Accident Lawyer to Help
When you have been injured in a construction accident, working with an experienced attorney from the Entrekin Law Firm will support the best possible outcome in your case. We will take over the entire process for you from drafting through collecting on your claim, removing the stress from your day-to-day life. The purpose of working with an attorney is to free up your time so that you can focus on recovering from your injuries while your attorney works to recover the full amount of compensation that you are entitled to.
For your risk-free, cost-free assessment on your construction accident injury, schedule a consultation with an attorney today. We'll assess your case and discuss options. If we're able to help, you'll pay nothing up-front, nothing out-of-pocket, and we only get paid if we win.