Phoenix Brain Injury Attorney
A severe brain injury, often referred to as a traumatic brain injury, is damage to the soft tissue of your brain that can cause permanent chemical changes. These changes can lead to a shift in your ability to concentrate, to changes in your personality, and can impact both your ability to work and to enjoy your life as you did before the accident. Traumatic brain injuries can be difficult to detect without expert medical opinions, and your experienced Phoenix brain injury attorney will help you schedule the appointments you need to determine the true extent of your wound.
If you or a loved one have experienced a brain injury in an accident caused by someone or something else, you could be entitled to compensation for your injuries. Working with an attorney from The Entrekin Law Firm as soon as possible after you have received emergency medical care for your injuries will support the best possible outcome in your case. We will help you collect the evidence you need to fully measure your damages, then help you collect them by handling every step of the process from claim through collecting.
Phoenix Brain Injury Resources
To immediately access the resources at any point on this page, please click the corresponding link below.
Common Causes of Brain Injuries
Types of Head & Brain Injuries
Potential Damages in Your Case
How an Injury Attorney Can Help
Dealing With Insurance Companies
What is the Cost of a Phoenix Brain Injury Attorney?
What to Look for in a Brain Injury Lawyer
Speak to an Attorney Today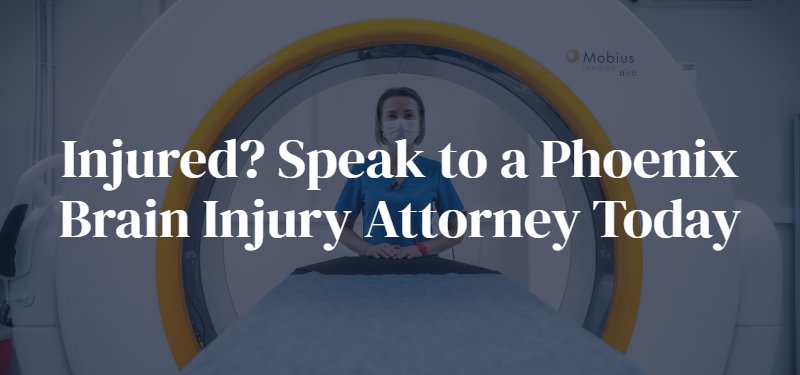 What Are Common Causes of Phoenix Brain Injuries?
When your brain injury was caused by someone or something else, you could be entitled to compensation to cover all associated costs. Common accidents that cause brain injuries that we have helped clients recover their damages on include: 
Car accidents

Slip-and-falls 

Workplace injuries 
Determining the cause of your accident requires a careful assessment of the unique facts and circumstances, and how the law applies to them. Your Phoenix personal injury attorney handles this process for you and ensures that the accident is completely and accurately assessed to support your claim.
Types of Head & Brain Injuries
Closed Head Injury
A closed head injury is when the skull is fractured but not penetrated. A closed head injury can be caused by a blow to the head and can range from mild to severe. Symptoms of a closed head injury include headaches, dizziness, nausea, blurred vision, and fatigue.
Open Head Injury
An open head injury is when the skull is penetrated. This can be caused by a bullet wound, a knife wound, or any other type of trauma that breaks through the skull. Open head injuries are always considered to be serious because they put the brain at risk of further damage. Symptoms of an open head injury include severe headaches, confusion, seizures, paralysis, and coma. Sometimes they are fatal.
Traumatic Brain Injury
A traumatic brain injury (TBI) is a type of damage to the brain that occurs when someone is hit in the head, their head is jerked back and forth very quickly, and the brain is deprived of oxygen. The most common causes of TBI are falls, being hit by an object, and car accidents. A Phoenix car accident attorney is prepared to take on your case if your injury occurred as a result of a motor vehicle collision. These accidents can occur at work, at home, or during recreational activities. TBIs can also occur as the result of violence, such as when someone is shot in the head or shaken violently
Concussions
A concussion is a head injury that occurs when the head is suddenly and violently jarred or shaken. This can happen from a blow to the head, such as from a fall or being hit with a blunt object. Concussions can also occur from a car accident or from being shaken violently.
Contusions
A contusion is a type of closed head injury that occurs when there is bleeding within the brain tissue due to a blow to the head. Contusions usually occur in conjunction with another type of TBI, such as a concussion. Symptoms of a contusion can vary depending on the location and size of the injury but often include headaches, dizziness, confusion, and loss of consciousness. 
Damages Include Short- and Long-Term Medical and Occupational Costs
The damages that you are entitled to for your brain injury include short-term medical costs like the emergency room as well as long-term costs like rehabilitation and medications. Any short-term lost wages and work benefits should be covered, as well as any change in the amount of income you are able to earn from the time of your injury through your working life.
Measuring the full costs associated with a severe injury like a traumatic brain injury is complex, and requires an understanding of the present and future costs and how to use the law to collect them. When you accept a settlement, you are prevented from pursuing any additional damages related to your accident, so it is essential to collect what you are entitled to when you can.
How a Phoenix Traumatic Brain Injury Lawyer Can Help
If you have suffered a TBI due to the negligence of another party, you may be entitled to compensation for your medical expenses, lost wages, and pain and suffering. A TBI lawyer will review your case and determine who may be held liable for your injuries. The lawyer will then build a strong case on your behalf and negotiate with the insurance companies to get you the maximum compensation possible. If necessary, they will take your case to trial.
Dealing With Insurance Companies for a Brain Injury Case
Brain injuries can be some of the most debilitating and expensive injuries to recover from. If you've suffered a brain injury due to someone else's negligence, you may be wondering how to make a claim with their insurance company. 
The first step is to contact the at-fault party's insurance company and notify them of the accident. They will open a claim and begin an investigation into the incident. Once they have all the information they need, they will make you an offer. If you accept the offer, you will sign a release and receive the settlement. If you do not accept the offer, you can file a personal injury lawsuit against the at-fault driver.
For most people, it makes sense to consult with a personal injury lawyer before accepting any settlement offers. An experienced Phoenix brain injury lawyer will be able to help you determine whether the offer is fair and whether it is in your best interest to accept it. They can also help negotiate a higher settlement if necessary.
If you can't come to an agreement, you can always take your case to court.
What is the Cost of a Phoenix Brain Injury Attorney?
Most brain injury lawyers work on a contingency fee basis. This means your lawyer's payment is contingent upon the outcome of your case, and they only get paid if they obtain a monetary award for you. Most contingency fees range from 33% to 40%. So, if you are awarded $100,000 in your case, your lawyer would receive anywhere from $33,000 to $40,000. 
In addition to the contingency fee, you may also be responsible for paying other fees associated with your case, such as court costs, expert witness fees, and investigative fees. Make sure you discuss all possible expenses with your lawyer before you sign anything.  
What to Look for in a Brain Injury Lawyer
It is important to find an experienced and compassionate lawyer who will fight for the compensation you deserve. Here are some things to look for when choosing a brain injury lawyer.
Experience 
When you are looking for a brain injury lawyer, you want someone who has experience handling cases like yours. Brain injuries can be challenging because your lawyer will need to be able to explain complicated medical evidence to the judge or jury. A qualified lawyer will make sure that they understand every last detail of your case so they can explain it in layman's terms to give you the best chance of success.
Trial Experience
In addition to experience handling similar cases, you want to find someone who has trial experience as well. While most personal injury cases are settled out of court, there is always the potential that your case could go to trial. You want a lawyer who has experience navigating the courtroom and who knows how to present your case in the best light possible.
Aggressive Dedication
You need a lawyer who is not afraid to take on powerful opponents and fight for the compensation you deserve. Look for a lawyer with a track record of success in court and who is not afraid to go up against large insurance companies or other adversaries.
Reputation
When searching for a brain injury lawyer, be sure to read online reviews and testimonials from past clients. This will give you an idea of what others have thought about working with the lawyer and whether they would recommend them.
Compatibility 
Finally, it's important to choose a lawyer that you feel comfortable working with. This is someone who you will be entrusting with a very personal matter, so it's crucial that you feel like you can trust that they have your best interests at heart. Be sure to schedule an initial consultation with any potential lawyers so that you can get a feel for their personality and how they might handle your case.
Connect with a Phoenix Brain Injury Lawyer to Discuss Your Case
One of the experienced Phoenix brain injury lawyers from The Entrekin Law Firm are standing by to review your case and discuss options. If we take your case, you pay nothing up-front, and nothing out-of-pocket, ever. This is because when we take cases, we take them on contingency, which means that we only get paid if we win on your case.
Reach out today for your risk-free, cost-free consultation with The Entrekin Law Firm on your case.